Shopping Cart
Your Cart is Empty
There was an error with PayPal
Click here to try again
Thank you for your business!
You should be receiving an order confirmation from Paypal shortly.
Exit Shopping Cart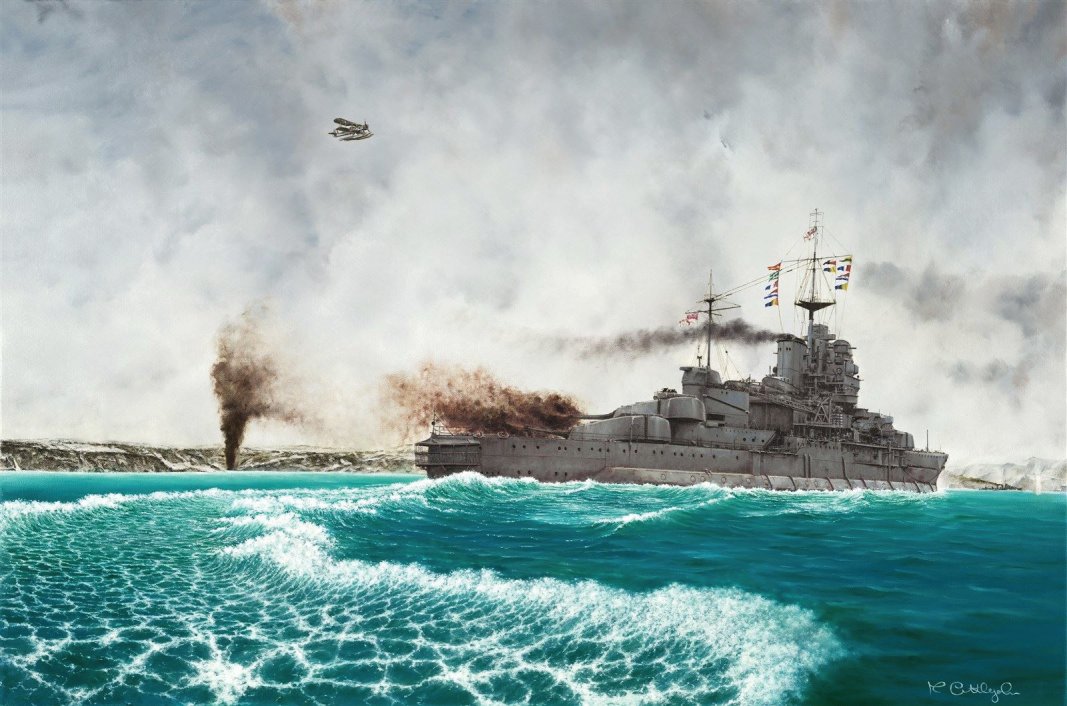 COMING SOON A SELECTION OF NEW 
NAVAL PRINTS.
From WWI - WWII Full details will be upcoming
on the website see :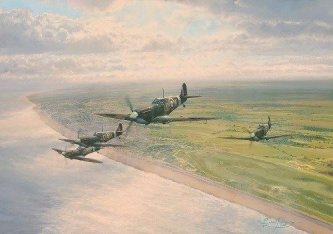 CHANNEL SWEEP 
by Robert Taylor 
The Luftwaffe had been held at bay, and with the Battle of Britain won, the Royal Air Force turned its attention from one of defence to a more offensive stance. Having played a pivotal role in Britain's dogged defence, in November 1940 Air Chief Marshal Sir Hugh Dowding was replaced as Air Officer Commanding-in-Chief of Fighter Command by the more aggressively minded Sir William Sholto Douglas and given the task to quickly rebuild his Command's strength and then seize the initiative. Dowding wasn't the only casualty of the RAF's new approach; Air Vice-Marshal Keith Park, head of 11 Group during the Battle of Britain, was replaced by Air Vice-Marshal Trafford Leigh-Mallory, previously head at 12 Group and a man whose support for Bader's 'Big Wing' tactics was enthusiastically shared by Fighter Command's new commander-in-chief.

Throughout 1941 Fighter Command took the war to the enemy with ever-increasing strength and offensive patrols, especially 'Circus' operations – the codename for large-scale sweeps over northern France with Fighter Wings providing cover for small formations of light bombers, usually Blenheims, to attack strategic targets such as airfields, power stations and railway marshalling yards, and specifically designed to lure up the Luftwaffe's fighters into combat. 
Robert's stunning painting depicts a scene in August 1941 with a section of Mk.Vb Spitfires from 452 Squadron, led by top Irish Ace Flight Lieutenant Brendan 'Paddy' Finucane DFC, as they head out over the Kent coast on an offensive patrol across the English Channel.
Overall print size: 32 ¼" wide x 24 ½" high
Image size: 27" wide x 18" high
With all the hallmarks of a classic Taylor masterpiece, this stunning edition also carries the original signature of highly-regarded RAF Spitfire pilots who flew during this crucial period.
The Limited Edition & Artist Proofs

Along with artist Robert Taylor, every print carries the original signature of one of the RAF's most successful and high-scoring Aces, who flew Spitfires with the Biggin Hill Wing during the period depicted:

Squadron Leader NEVILLE DUKE DSO OBE DFC** AFC FRAeS

The Collector's Edition

This highly-restricted SIX signature edition is issued with the matching-numbered companion print ON FINALS INTO KENLEY – a detailed study of Brendan 'Paddy' Finucane on his return to base after another arduous mission. Each copy is personally signed and hand-titled by the artist Robert Taylor, and carries the signatures of five famous Spitfire pilots who flew in combat with the RAF during WWII:

Lieutenant General Baron MIKE DONNET CVO DFC FRAeS
Wing Commander PETER AYERST DFC
Wing Commander TOM NEIL DFC* AFC
Flying Officer JOHN 'PADDY' BYRNE
Flight Lieutenant STANISLAW NAWARSKI DFC* AFC 



THE LIMITED EDITION US $275.00 UK £195.00 
 Edition Size - 225 In Stock 
THE ARTIST PROOFS US $345.00 UK £245.00 
 Edition Size - 25 In Stock 
THE COLLECTORS EDITION US $485.00 UK £345.00 
 Edition Size - 35 In Stock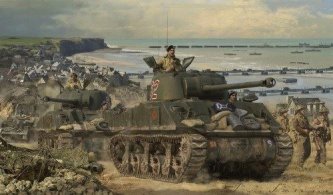 MANY NEW IMAGES UPLOADING!!
We are in the process of uploading a vast number of
newly available prints. Full details can be found under the 
Many more yet to come covering a wide variety of
subjects including aviation, ground warfare and naval.
Additionally many will be accompanied by unique additional 
items or prints only available from us.
AUGUST SPECIAL OFFER
LIMITED EDITION GI-CLEE CANVAS PRINT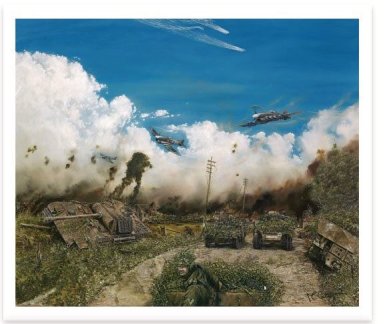 FALAISE - THE ROADS OF DEATH
The German 7th Army retreating Through The Falaise Gap Under Air Attack From Typhoon Fighter Bombers Belonging To The Allied Tactical Air Force During The Climatic Battle For Normandy in France During August 1944.
Each Print Measures 24" x 24" Unstretched.
And Is Accompanied By An A3 Sized Companion Print With
Full Historical Background Details.
Five Will Be Issued From This Site From August 21st 
At A Special Price Of :
150.00 GBP 
With Free Postage And Packaging
Normal Price : 295.00
Only The First Five Orders!
Get The Special Offer Price So Order As Soon As Released On The 
HOME PAGE
And Confirm Your Special Price.
HOW WE USE YOUR PERSONAL INFORMATION AND KEEP IT SAFE AND SECURE
Dear Collectors,
In the U.K., a new General Data Protection Regulation, or GDPR, will come into force on the 25th May which is designed to give you more control over how your data is used by companies and organisations and how you are contacted by them.
If you have purchased items from any of our sites this information which may include names, addresses, email and contact numbers is kept secure and safe, and used solely to ensure the dispatch of any orders placed or invoices and not for any other purposes without your explicit consent or provided to any third parties for the purposes of storing or advertising.
If you would like to find out more, you can read our updated Privacy Statement In the Information Section.
If you have any questions, feel free to contact us at :
Rest assured, we will continue to keep your data secure and your wishes respected.
Very many thanks for your interest in The Arcs of Fire Gallery.
Kind regards,
The Arcs of Fire Gallery
UK Tel: +44 (0)1326 318941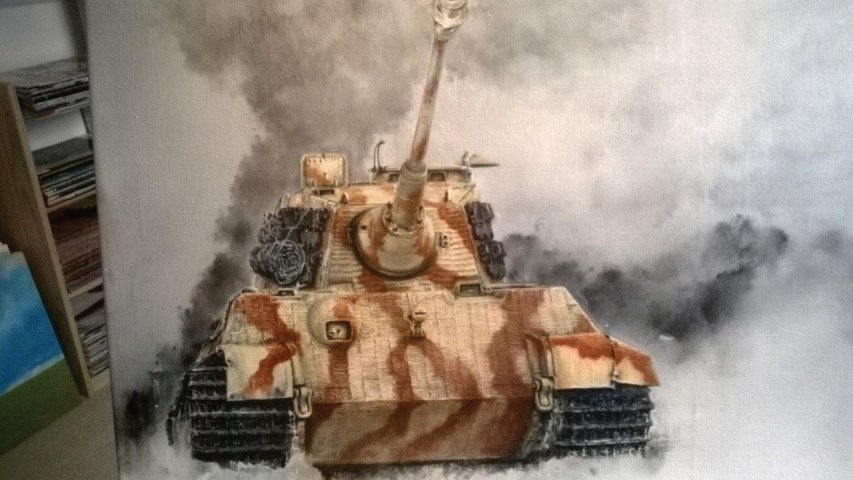 Working on some new oils,this one will show Tiger II's of Battle Group Pieper heading towards the bridge at Stavelot during the Battle of the Bulge. Just finished putting on the anti magnetic mine paste, some more wear and tear then crew. Finished painting will be based upon my original drawing and print " Towards a bridge at Stavelot ".
COMING SOON!
NEW BOOK & PRINT COLLECTIONS
Full Details To Follow
Or Feel free To Email Us For Further Details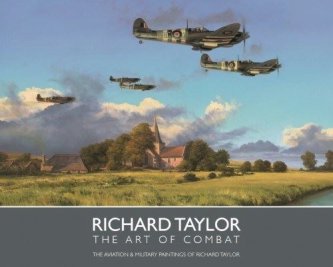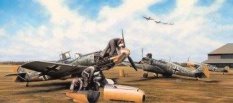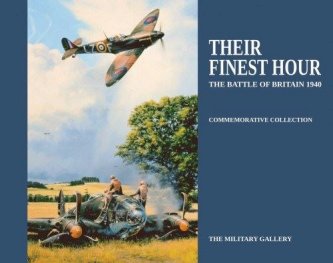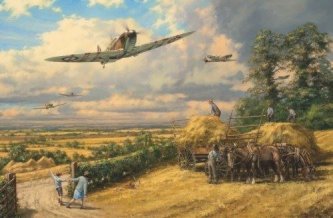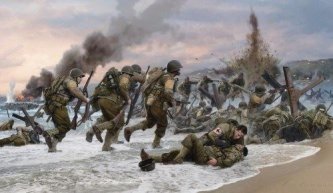 COMING SOON !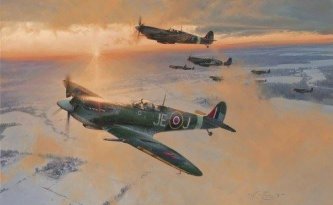 Midwinter Dawn
by
Robert Taylor
A Tribute to J.E ' Johnnie Johnson '
the highest scoring RAF Ace of WWII
For further details
/